Cultural connection 본문
B/Essay
Cultural connection
생름 2023. 7. 15. 23:05
I have experienced an exchange student program in Singapore. It was my first experience abroad. There, I had three goals: practice English, make foreign friends, and learn any differences outside of Korea. I thoroughly followed this guideline. Although my academic achievement was pretty low, my understanding in sociology enhanced. I used to think foreigners were like aliens who were beyond my understanding. It makes sense considering I grew up surrounded by similar appearances saying we were from the same ethnic group. I came to realize there were not many differences even with various cultural backgrounds. It was a joyful moment to extend my knowledge where I could break my stereotypes towards different races or countries.

On the other hand, I confronted a few moments to explain my cultural concepts that people from outside would have a hard time getting the hang on. One of the main topics was the age reckoning system in Korea. I didn't realize Korea was the only country counting people's age uniquely. After presenting this Korean custom to friends a couple of times, I became adept.

Here is my refined explanation over many years: Koreans age a year older whenever the year changes. So when a baby is born on the 31st of December and yes, this baby turns two years old the next day. For example, if your birthday has already passed in this year, technically you are plus 2 years older in Korea. I assume this unfair system is due to administrative efficiency. When it comes to Public Education, students born in the same year start school at the same time considered each other in the same age. Additionally, Korea's age-counting method is deeply related to a certain language habit in Korea. While Korean call somebody, the younger person should call the elder one by titles like Eon-ni or Obba. I guess while Koreans care about birth order so much to decide who is going to be Eon-ni and Obba, they might need a simple regulation: binding those who are born in the same year into a same-age group.

Recently I learned Japan has a name of this: Kazoedoshi, meaning counted years. This age system disappeared in daily life of Japan but remains only for traditional rituals. From Wikipedia, there were historical records of this system in a few countries including China, Japan, Korea, and Vietnam. Since South Korea officially stopped using this system of age reckoning in June 2023, informal uses remain in some Asian countires.

Likewise, pondering Korean culture and its origin is refreshing. With pleasure, I would like to attempt to explain more topics about Korean culture. For example, Gunghap is another tricky theme for outsiders. Gunghap is the fortune-telling of love between lovers.

Before describing what Gunghap is, I have to interpret Saju. Originating from China and spreading to Korea and Japan, it has been adapted distinctively in each country. Saju or Saju Palja is a conceptual term, believing a person's destiny tends to be affected by one's birth moment, composed of hour, day, month, and year. These four factors become one's four pillars, the meaning of Saju(사주/四柱). 'Sa' from the word Saju means four, and 'ju' here means a pillar, or a column. Each pillar comprises two characters, thus a total of eight characters assigned per person is called Palja(팔자/八字). Eight characters in Palja are selected from 10 sequence letters named Heavenly Stems and 12 animal letters named Earthly branches in Chinese. The combination of the 10-gan letters and 12-zi letters is something to do with seasonal periods and calandar systems, which was critical information for agricultural society. These characters also refer to characteristics of five elements like water, wood, metal, fire, and earth.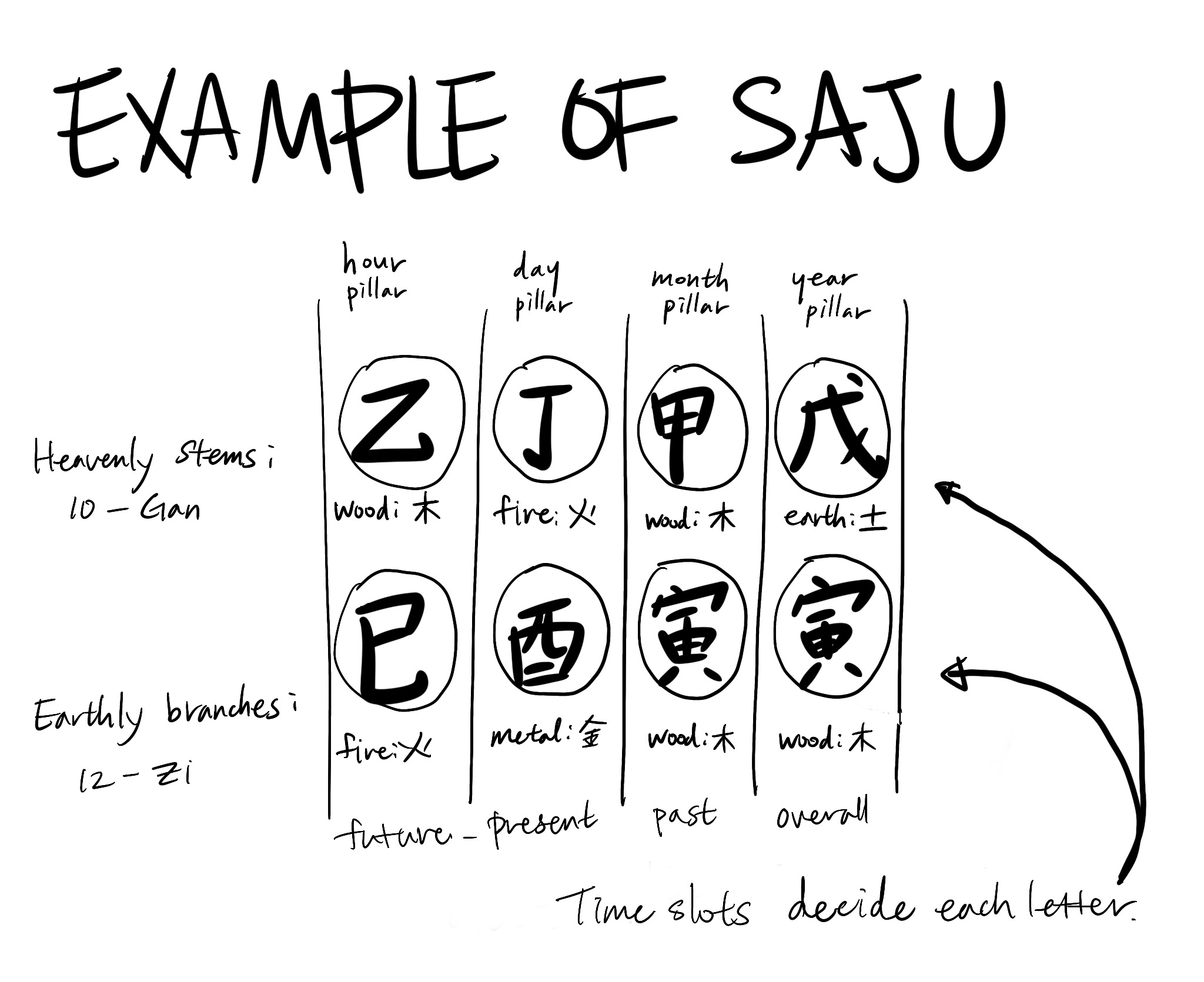 When it comes to Gunghap, the elements above decided by the moment of one's birth are the main key. Each elements has compatible / incompatible pairs. For example, a person with many wood elements in one's Palja is told better to meet those who have water or metal and to avoid with fire and earth. Not only that, a fortune teller would analyze one's characteristic according to where each element is placed in the four pillars connected to one's birth.

Saju is a part of Myungri, the study of one's fate in the two sexagenary cycle. I am afraid that my level of understanding of Saju is so shallow, which lowers reader's expectation of Gunghap. In Korea, it is very controversial to consider it either superstitious or statistic science. No matter on which side a person is however, it is highly likely the one has tried Gunghap. Young couples may have their fortune of Gunghap for fun. Parents whose children are planning to get married may take Gunghap into account. For those who have blind faith in Saju, what happen if the results of Gunghap doesn't accord with ones' thoughts? No worries. They would keep finding fortune-tellers until a proper one would meet their expectations.
Comments